WE'RE ON A MISSION TO SAVE THE WORLD FROM POOR-PERFORMING DIRECT MAIL
Scribble Mail are saving the world from poor-performing direct mail by bottling up their high-response potion and providing their handwritten direct mail service, which is currently the largest service of its type in the UK.
Working on behalf of some of the world's largest brands, Scribble Mail helps to bring campaigns to life, add a personal hearfelt touch and drive industry-high response rates. 
From hand-addressed envelopes to handwritten "thank you" cards – the power of the pen (and plenty of wrist-ache) is changing the face of direct mail.
WhY PARTNER WITH SCRIBBLE MAIL?
experienced team of in-house UK writers
All of our handwriting takes place in our office in Ashby-De-La-Zouch – no handwriting, packing or stamping takes place outside of our four walls.
Data protection is VERY important to us, all data is uploaded into a secure FTP folder and randomly distributed to each handwriter for their specific "day chunks" – allow us to track every piece of mail back to the individual writer and time of day that it was completed.
We employ people that are typically university educated but have taken a career break to raise children.
Our team of writers typically work from 9.30am until 2.30pm, which means concentration levels are high, minimising our mistake-rate (currently 1 in every 1608) as it's not an overly long day.
we have scale for big projects
The biggest challenge with sending handwritten direct mail is scale, we're scaling the unscalabale with handwritten direct mail.
Because regardless of whether you want to send one piece of handwritten mail, or 100,000 mailings, each piece takes an equal amount of time.
However, through our vast experience and large team, we're able to handle all sizes of mailings and turn them around efficiently and quickly.
Great fun to work with (if we say so ourselves!)
We're on a mission to save the world from poor-performing direct mail, and as you've probably worked out by our branding – we're not a boring mailing house that's desperately trying to fit in.
We love that we're unique and we're aiming to disrupt a tired mailing industry by actually prioritising the response (rather than what's easier for the mailing house).
By working with us, you can guarantee that we'll have great fun – especially if you're part of our 'Superhero Club, where you'll get special privileges, gifts and invitation to "Superhero days".
The Guys Behind Scribble Mail
Oli Luke & Lee Callender are the guys behind the mission to save the world from boring poor-performing direct mail, one handwritten piece of mail at a time.
In typical Scribble Mail fashion, they didn't want to introduce themselves on a boring 'Meet The Team' style page – so instead, they decided to settle an argument and have a 'Hot Sauce Challenge' whilst discussing handwritten direct mail.
What's It Like to Work With Us?
"I just wanted to thank you and the team for producing the notes thus far. We really appreciate all the help and the quality of the work is exemplary. If you're looking to provide a handwritten personal touch, I'd highly recommend Scribble Mail."
"We send an industry magazine as a marketing tool in order to get through the door with many prestigious companies – by switching from our printed mailing house to Scribble Mail's handwritten mail, we've had a 200% increase in the response/meetings – it's incredibly simple but makes such a huge difference and they're great fun to work with."
"If you want to rocket power your marketing ROI (and if you're in advertising, then why wouldn't you?) then you really need to check out Scribble Mail. Handwritten communications can augment the effectiveness of almost any campaign and with Scribble Mail, it couldn't be easier. They're fast, professional and they get results. Highly recommended."
Would You Like a Copy of Our Superhero Sample Pack?
Want to experience how great it feels to receive handwritten direct mail for yourself?
Request your sample pack to receive our brochure and a handwritten card, all packed in a unique hand-addressed unmissable envelope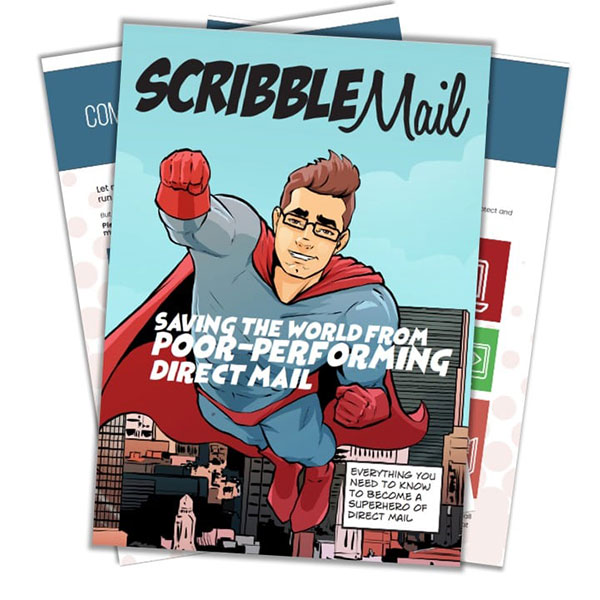 OUR (NOT SO) SECRET LAIR
Rockleigh House, 37 Burton Road, Ashby-de-la-Zouch, LE65 2LF