Seven REASONS TO PARTNER WITH SCRIBBLE MAIL?
#1 - We Use Real Handwriters (No Deceiving Robots)
What's worse than not sending handwritten direct mail? Trying to trick people into thinking they've received handwritten direct mail.
It's damaging to your brand and it can cause more destruction than good because there's nothing people hate more than feeling tricked.
This is why at Scribble Mail, we only use real people (our "scribblers") to genuinely handwrite all of our mail.
No machines, no robots, no cheating. Just genuine, meaningful handwritten marketing.
#2 - Our Iron-Clad Data Protection Procedure
Unlike the large majority of others in our industry, we hire a full-time team of writers that work from within our office. 
This means that your data is not being sent to independent writers that work from home, where it's unsecured, breaches GDPR compliance and runs the risk of being lost, not being properly destroyed and/or ending up in the wrong hands.
Our team go through a strict vetting process, they only work from within our office, they only have access to 'Day Chunks' of data with one operator (our Data Controller) having full access, and your data is only retained for 30 days before being destroyed.
#3 - Trusted on Behalf of Leading Brands
We're trusted by some of the largest brands in the UK and Europe handling highly sensitive data on their behalf, whether financial information, medical information or their most highly valued customers.
We know that one of the biggest fears is handing over data, knowing that it's being used correctly and that it's 100% safe and secure. 
Due to our director being the GDPR spokesman and trainer on behalf of several Chamber of Commerce's throughout the UK, our bullet-proof processes ensure that we're the most trustworthy handwritten mailing house in the UK.
#4 - No Monthly Tie-In's or Subscription Plans
 If you want to send a campaign, you don't want to be tied into awkward subscriptions, you want a simple clean transaction.
 And if you want an ongoing partner to send consistent drip-campaigns, you just want to pay for what you send, right?
 At Scribble Mail, we do it the right way by working with you to send whatever you want to send, however you want to send it.
#5 - We Have One Focus
We were the first handwritten mailing house in the UK, opening our doors in 2013 – throughout this time, we've only focused on one thing – helping our clients to send handwritten marketing.
We don't create fancy gifts, we don't promise to be experts in stationary – we just focus on doing what we do best, and being the best at doing so.
#6 - We Make It Easy For You
We like doing business with people that like doing business with us, that's why we make it super easy for you.
We don't put up barriers, ask you to spend hours completing complicated forms or expect you to make all the decisions – we're here to help, protect your time and use our expertise to make it simple for you.
We can do the thinking, we can do the planning, we can source the print/materials, and we can come to you with options rather than questions.
#7 - All Our Writers are In-House
Whereas some handwritten mailing houses have freelancer writers throughout the country which makes the security of your data and quality control risky … 
… Scribble Mail have a team of writers that are all based within our Leicestershire office.
Our full-time employed writers are typically university educated but have taken a career break to raise children, often working around school hours.
Request a Call Back
Have a question or want to chat to one of our direct mail superheroes? Then complete this form and we'll call you back shortly
The Guys Behind Scribble Mail
Oli Luke & Lee Callender are the guys behind the mission to save the world from boring poor-performing direct mail, one handwritten piece of mail at a time.
In typical Scribble Mail fashion, they didn't want to introduce themselves on a boring 'Meet The Team' style page – so instead, they decided to settle an argument and have a 'Hot Sauce Challenge' whilst discussing handwritten direct mail.
What's It Like to Work With Us?
"I just wanted to thank you and the team for producing the notes thus far. We really appreciate all the help and the quality of the work is exemplary. If you're looking to provide a handwritten personal touch, I'd highly recommend Scribble Mail."
"We send an industry magazine as a marketing tool in order to get through the door with many prestigious companies – by switching from our printed mailing house to Scribble Mail's handwritten mail, we've had a 200% increase in the response/meetings – it's incredibly simple but makes such a huge difference and they're great fun to work with."
"If you want to rocket power your marketing ROI (and if you're in advertising, then why wouldn't you?) then you really need to check out Scribble Mail. Handwritten communications can augment the effectiveness of almost any campaign and with Scribble Mail, it couldn't be easier. They're fast, professional and they get results. Highly recommended."
Would You Like a Copy of Our Superhero Sample Pack?
Want to experience how great it feels to receive handwritten direct mail for yourself?
Request your sample pack to receive our brochure and a handwritten card, all packed in a unique hand-addressed unmissable envelope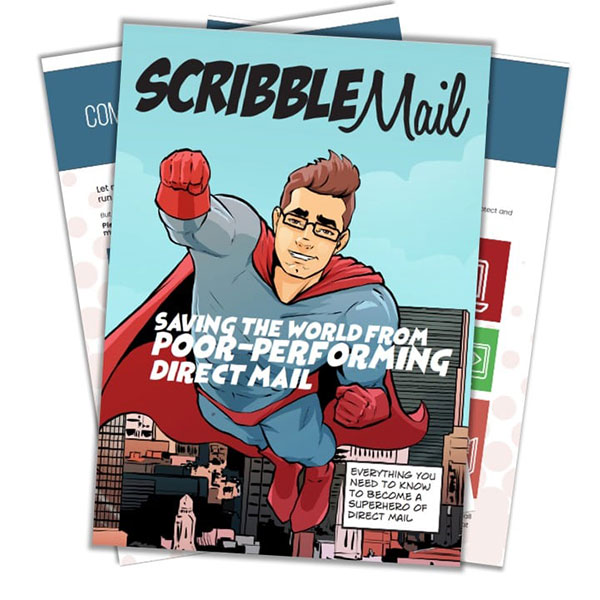 OUR (NOT SO) SECRET LAIR
Scribble Mail Limited, Unit 11b Charter Point Way, Ashby Park, Ashby-de-la-Zouch, LE65 1NF